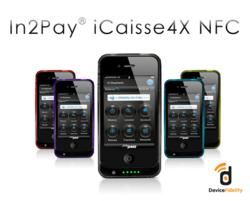 Richardson, TX (PRWEB) May 15, 2012
DeviceFidelity, Inc. today announced an exciting new addition to its lineup of popular NFC protective cases for the iPhone, the In2Pay iCaisse4X NFC. Designed to work with the In2Pay microSD, the powerful and multi-functional case allows iPhone users to fully utilize NFC features such as card emulation mode, reader/writer mode, and peer-to-peer mode while offering a removable extended battery providing several more hours of use before plugging in for charging.
In addition, DeviceFidelity also announced that it has received three additional patents on the iPhone NFC protective case technology, taking its granted patent position beyond the US to Europe, China, Mexico and several other countries.
The new design is an amazingly protective and stylish hard shell two-piece case that allows iPhone owners to simply slide in their phone and instantly enable NFC tag reading and writing, make mobile payments using NFC mobile wallets such as moneto, gain secure entry through NFC enabled transit readers and share data between other NFC enabled phones. The case itself doubles as an additional source of power complete with an extended battery that is controlled and monitored directly from the case. The iCaisse4X NFC is one of the only extended battery cases in the market with a removable battery allowing users to carry yet another charged battery for extra long extended use period. iPhone owners can also choose from several fun case bands that come in spirited colors such as red, orange, green, purple, silver and clear. The new iCaisse4X NFC case is the only iPhone solution to harness the complete power of NFC for the iPhone while being fully equipped with an external battery pack.
DeviceFidelity has been participating in NFC rollouts in all major markets and iPhone based rollouts are in high demand from wireless carriers, banks, app developers and payment networks. By providing a unique value added NFC accessory for the iPhone case that is protected by global patents and leading in market features, DeviceFidelity is accelerating market adoption and improving return on investment for NFC rollouts, said Deepak Jain, DeviceFidelitys CEO, President and Co-Founder. In an environment ripe for effective contactless implementations we are excited to bring this game changing product to consumers globally.
The In2Pay iCaisse4X NFC is equipped with a microSD slot that is designed to accept the secure contactless In2Pay microSD issued by a financial institution, wireless carrier or retailers for uses such as a credit, debit, prepaid or a multiple account digital wallet.
About DeviceFidelity
DeviceFidelity, Inc. develops plug-and-play technologies that empower a variety of institutions to deploy their services and applications on millions of mobile phones worldwide. Its patented In2Pay